To market any product or service online, it is much important to upload relevant information about item that can deliver proper details about it the customers. However, there is a great importance of content in the online marketing. Here comes the content marketing rule that is being popular nowadays. Most of the digital marketing companies have been adopting content marketing strategies in order to provide right and valuable information about their services and online promotion of their clients' businesses over the web. Before moving ahead, let us understand:
What is Content Marketing?
Content Marketing is a technique to develop informative content about any product or service and distribute it over the web to give proper knowledge of the product and attract audience to read it. Most of the brands and online marketing companies use this methodology for branding of their products or services and spread awareness of their new launches or services through content marketing strategies.
It also works as a perfect marketing tool that helps online businesses to promote their name and services across the world. Thus, content marketing is a vital way to divert attention of prospective audiences towards your online business and spread its popularity as well.
Content marketing is useful for all small to big level organizations and helps them in generating more revenue or sale, clientele, and saves money as well.
Content Marketing's 7 Step Strategy Building Process:
Get ideas for your content
The very first step is to search the best ideas for generating content about suitable topics. It requires certain brainstorming activity to find the right goal.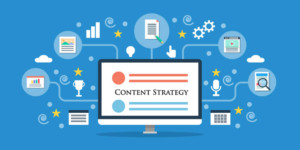 Make strong research
Once you find the suitable topic to write on, make a strong research for that over Google and find relevant information about that subject. Try to find comprehensive details about the topic and plan your content creating strategy to define it in depth.
Define content format
Ensure that what type of content format you are going to use for displaying content and look it perfect for readers online. Take a time to set your priority of headlines and main theme of content to expose to the learners explicitly in the content.
Make proper structure of content
You need to rest assured about proper structuring of the content you create. Do not forget to include all relevant information and creative ideas about subject and deliver right detail about topic in the content in a well structured manner.
Take care of title of your blog
It's much important to write attractive and click-worthy title of your blog content. This gives first impression on audience of your effort made for intended purpose.
Check quality of content
You need to be assured about quality of content that should be impeccable, informative, readable, well structured, reader-centric, etc.  Test your content in all such parameters strongly and then process is for marketing.
Refinement of errors
If you find any flaws in quality of content, make it refine soon and fix all errors promptly. Take your time to get the issues resolved and make content audience-centric as well as ready for marketing.
According to the Content Marketing Institute, most B2B marketers use at least 13 content marketing tactics for every post they publish.
How to Make Your Content Marketing – Learn More 
To Know More About Abhiseo Visit Contact Us.
You can also read blog on Search Engine Optimization