A lot of brands clasp the multichannel approach for customer engagement but just by being present on all channels doesn't certify customer engagement. Something more than a bare existence is required because not all channels are optimized for meaningful content.
Earlier there were only two ways to reach a customer: by phone or by fax. But today you can reach your customers by not only phone, fax but also via email, chat, social media, and SMS etc. Companies who provide a consistent and optimized service quality across all these channels have 89% possibility of retaining their customers.
A consistent service across multiple channels will significantly affect the revenue and hence companies are investing noticeably in Omni-channel customer service. Let me first shed some light on what is Omni-channel customer service.
What is Omni-channel customer service?
Omni-channel customer service combines text, social, and email etc messaging to provide an integrated brand experience to customers across all channels so that they can switch between channels while experiencing the prime quality of service.
This customer service not only gives you the opportunity to serve your customers better but also to boost your brand's image, reliability and in turn revenue. Think about it this way that how annoying it will be for a customer to ask the same question to multiple channel reps?
Here is a list of some best practices for building an excellent customer service strategy.
People expect good mobile service:
It is a world known fact now that mobile is huge. Most of the people use mobile for not only searching but buying as well. Hence, it is obvious that customers will expect services on mobile. But unfortunately, businesses aren't keeping up with their customer expectations in terms of mobile engagement.
Most of the people complain about mobile experience. Hence bottom line is that make sure that you have a mobile-friendly website.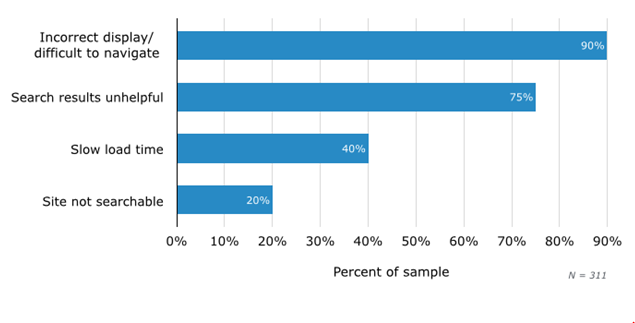 Image source: superoffice
Optimize the social media response time:
Social media can be great customer service tool, resulting in an increased customer satisfaction. But sometimes brands fall out on meeting the expectation in terms of service on social media. Increasing response speed on social media will not only make customers satisfied but also project a good image of your brand's responsiveness.
Customers tend to promote brands on social media when they are happy with the brand's service. Hence train your employees to provide quick and efficient solutions on social media.
Self-service is the novel customer service:
Today people prefer to solve their problems themselves rather than depending on others. Hence today's consumers expect business to help them solve their problems on their own rather than requesting and waiting for someone to attend to it.
Hence the best thing to do is create exhaustive and elaborate FAQs on your website (with troubleshooting QnA). Even if customers can't find the exact solution, the existence of reliable information gives an impression of good customer service.
SMS functions over industries:
For numerous industries, texting is a popular customer service platform. SMS is exceedingly flexible, right from sending appointment reminders to booking tables in your favorite restaurant on a mobile, everything is possible using SMS.
Banks have found SMS the most effective way of customer service; it is the perfect channel to send an alert about transactions, send OTPs, alert client about account frauds. In addition to this, surveys have found that 99% of the messages are read by the customers.
It is taken for granted that people who use phone calls and voicemails are interested in using text messaging as a customer service.
Live chat as a service:
Live chat has come into the lime light now and customers are likely to revisit those sites which offer live chats. Apart from being a customer service channel it also helps in improving sales. As a customer support representative walks a customer down a problem, they can use the chance to introduce the customer to their new products or services.
The professional and well-trained representative can not only provide solutions but also boost sales in a live chat.
End of the Line:
Omni-channel customer service is the solution for go-getting businesses. A well-trained staff can, not only address customer concerns but also create a positive image of your brand – this is the key to provide a supreme customer service.
Author Bio:
Earleen Brown is working with a reputed SEO Services company, a leading SEO Company India. The company basically is an IT firm Providing SEO Services India and has helped her a lot in enhancing her writing skills.