How Online Reputation Management Service Helps in Getting Back Your Business's Positive links
There are many brands and famous personalities, who have been facing notorious image in the society and in business world due to some culprits or acts done in indeed in the past time. It may spoil reputation of company or an individual in public or may lower down their business status in the competitive market. Here, it becomes important to improve reputation of the company or spread positivity about concern person in the society. To get this job done, many companies adopt online reputation management services and try to eliminate old blemishes on them via online mode and suppress negative comments about firm through online branding.
Here, the term of online reputation management comes out in the centre that means a lot for individuals to know: Let's explore:
What is Online Reputation Management?
The online reputation management is an online branding strategy that refers to turn negative impression of an individual or a company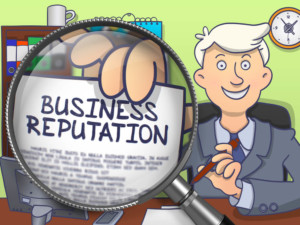 into positive ones through digital media means. Sometimes, it also abbreviated as ORM. It comes under the part of digital marketing and online branding domain that helps global businesses and celebrities to improve their online image and remove negative comments about their profiles and activities and present positive face of them to the real world. For this, there are many ORM activities are required to be done through digital marketing modes such as designing creative ads, banners, content posting, comments, reviews, etc., and post them over the web. It will help in suppressing negative remarks posted by culprits about concern person or company on its website or other search engines.  This is the practice that needs expertise of ORM professionals.  They do vital exercises and adopt best digital marketing activities including social media and SEO work to improve online reputation of company or a person.
Let's understand what ORM Scenario is?
The ORM strategy mainly deals within digital marketing activities that follow social media and SEO norms to do positive branding of a company or its product or service or an individual. The aim to organize ORM campaigns for a business is to promote its positive face to world by suppressing negative comments and reviews of it online.
Below are few activities that aim to run ORM campaign of a business successfully such as:
Monitor reasons of negative remarks about an individual or a company.
Make right analysis of reviews and find the truth.
Make a right plan for online reputation management campaign of business or one.
Posting positive contents (Articles, Blogs, Press Releases, and Classifieds) about company's online branding over social media websites, and other search engines to suppressing negative remarks over the web.
Promoting business online through right SEO tricks and lower down negative reviews of company from positive reviews by populating them over trusted websites online.
Prepare effective marketing ads, videos, and banners for company's branding and improve impact of it over audience.
Thus, above are few practices, which come under ORM campaign management that may result positively and help businesses to improve their online reputation in the market.
Online Reputation Management specialists
Value4Brand has partnered with a number of the most knowledgeable and authorized ORM specialists. These professionals have enough experience in online brand creation and management. Hence, the ORM services specialists can help you create your business as a number one online brand and to promote it at the top with positive feeds online.
For more information on ORM services you can Contact Us with the Best ORM Company In delhi Value4Brand.