Running a successful SEO or PPC campaign can easily hinge on whether or not you spent ample time conducting proper keyword research.
Afterall, with the right keywords, not only will you be able to get targeted leads, but you'd also be able to rank faster, all without having to spend truckloads of cash — pretty much like how it would turn out if you blindly target generic terms.
The good news is doing keyword research isn't at all complicated — provided that you have the best keyword tool on hand, that is.
Your keyword research tool doesn't have to be expensive, by the way. It can be a free, easy to use, and effective keyword tool — much like Ubersuggest.
Free and Fantastic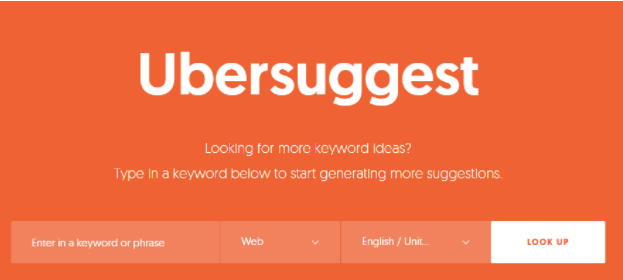 Ubersuggest may be free, but you'll be surprised to know that it has everything you need find profitable (and feasible) keywords.
Why Go for Ubersuggest
With so many keyword tools available, you're probably wondering why we recommend Ubersuggest the most.
To start off, it is convenient to use because you have only to visit their site to use the tool — no commitments, no clauses.
There are a couple of steps that you can follow can follow when using Ubersuggest:
Going to the website and providing your seed keyword. An option to specify which platform as well as language you want its basis to come from is also available, as this will better narrow things down.
For this example, let's use the seed keyword "organic vegetables":

Click "Look Up" and then wait a few seconds for Ubersuggest to generate more than a hundred keyword suggestions. The results for "organic vegetables" would be: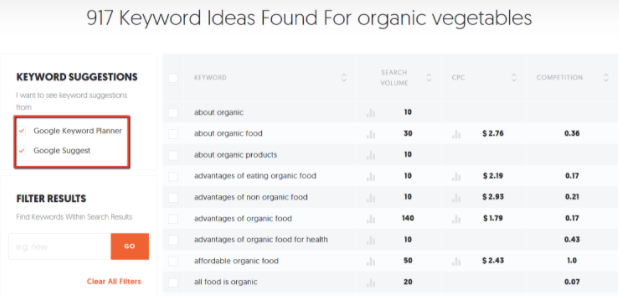 As you will see, Ubersuggest amasses keyword suggestions from both Google Suggest and AdWords Keyword Planner.
There is an option for you to use both, one, or the other by ticking off checkboxes found on the left side of the results.
Ubersuggest also brings in your seed keyword's long-tail variations, which is great for small brands given that these keywords are not as competitive compared to broad terms so there are fewer businesses or brands to contend with.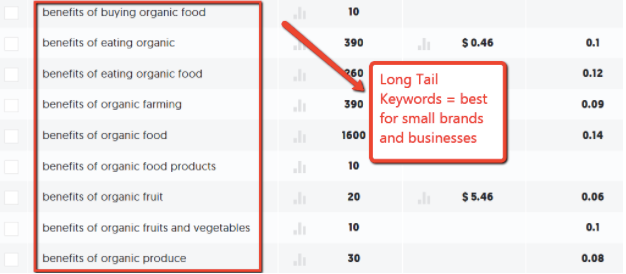 However, keyword length isn't the only consideration you need to make when performing research. There are other equally valuable metrics that you can include, such as Keyword Metrics.
Ubersuggest's results page also includes three columns adjacent to the keyword suggestions: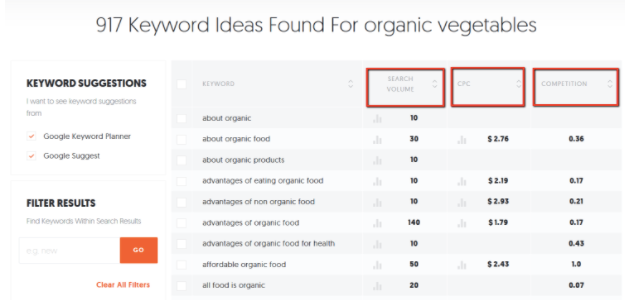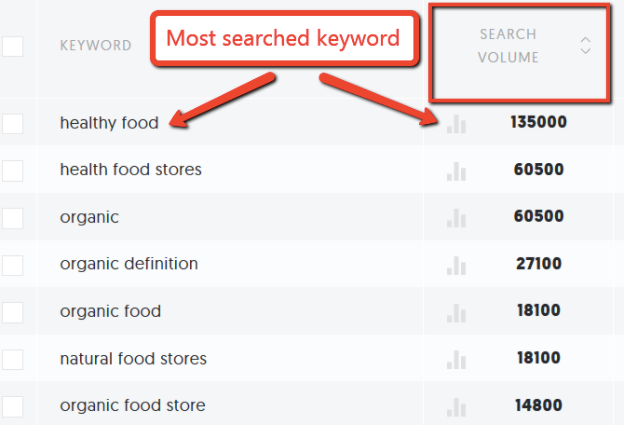 Column 1: Search Volume
The first metric indicates averages on monthly search volume. The information displayed here allows you to estimate the popularity as well as the potential profitability of these keywords.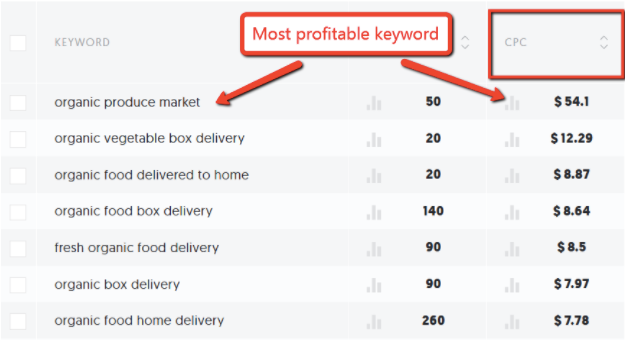 Column 2: CPC
Also known as cost per click, the second metric indicates the average rate at which advertisers usually pay for any clicks that are made with targeted keywords.
By measuring the CPC, you are then able to check both the profitability as well as feasibility of such keyword opportunities in relation to or when used for your brand.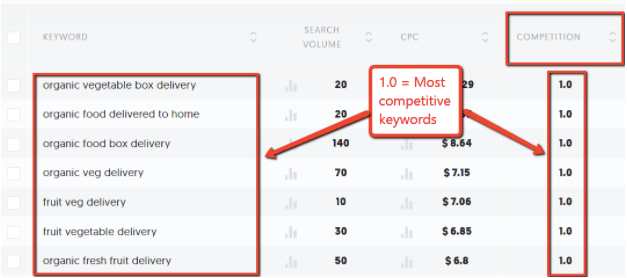 Column 3: Competition.
The final metric gives a measure of keyword competitiveness, ranging from 0.0 to 1.0.
If you run a startup or an emerging business, you should make it a practice to go for keyword opportunities that have a 0.4 competitiveness rating.
Interested in prioritizing a particular metric when conducting keyword suggestion analysis? Easy. All you need to do is to click the up or down arrowheads found right on the column headers, which will sort those keyword suggestions in a) ascending or, or b) descending order based on your chosen metric.
For example, if you want to concentrate on high-volume keywords on a monthly search basis, simply click the up arrowhead found beside the header for "Search Volume."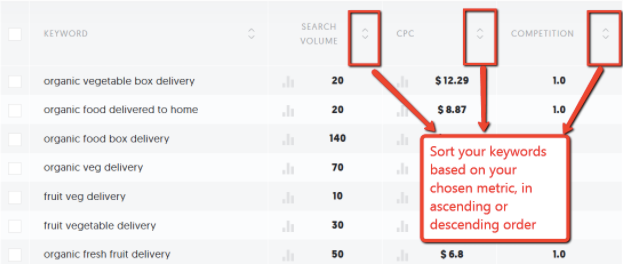 The same can be done for sorting keyword suggestions based on either CPC or its competitiveness.
If you follow these steps, you are on a much better track of generating highly lucrative keywords to be used in your marketing campaigns using a free yet completely useful tool!
More Keyword Refinements
As you finalize your keyword research, it is normal to use additional filters in order to further refine the results.
These filter options are found on the left side of the keyword results page, and the next thing to do is to select the keywords which have a specific term.
From here, go to the "Filter Results" box to input another keyword and then click Go.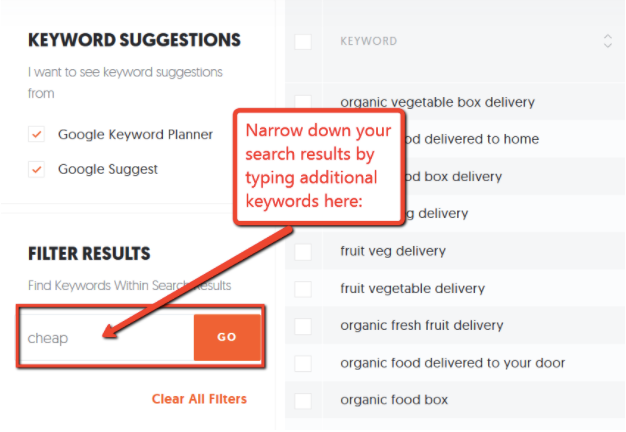 Another option for refining your keywords is to specify any "Negative Keywords" which you want to discount from your research results.
If you are keen on eliminating branded keywords which are already utilized by the competition, this method comes in very handy for doing just that.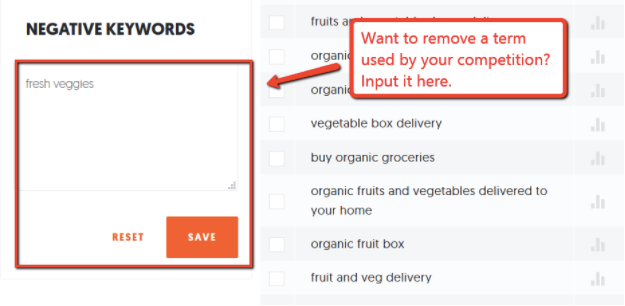 You'll observe that the final count of keyword suggestions gets even smaller every time you apply another filter.
If you use this alongside any or all of the metrics outlined here, it won't be long before you finally get the best selection of keywords that are tailor fit for your campaigns.
Lastly, Ubersuggest has a neat feature that lets you export your keywords ideas straight into .CSV files.
Select all the keywords that you want to be part of the CSV report, and then click "Export to CSV found at the bottom, and that's it!
More Tips for Using Ubersuggest
While Ubersuggest is fantastic all on its own, much of the success anyone will get from it as a keyword research tool will also largely depend on the person actually using it.
These tips will help you use it in a more effective manner to yield better results in less time:
Consider keyword localization.

Ubersuggest has a feature which allows you to target specific locations, which will be helpful in ensuring that your results are more able to hit the bull's eye.

Deliberate on your market's purchase intent.

Apart from considering the metrics, don't forget to factor in the purchase intent that people who actually use them have.
If for example, a keyword that includes "near me" at the end can give off an idea that those who use it have real intents to actually go ahead and purchase the item or avail the service of local businesses they are searching for.
Seek out customer questions.

If the purpose of your keyword research is to generate results for content development, you might want to filter the results so that they include phrases that are stated in question form and have the terms such as "how," "why," and others.
Simple, Straightforward, and Effective
To sum it up, Ubersuggest is a fantastic way to generate profitable keywords without having so spent so much time and effort in doing so.
It is easy to get to know, simple to use, and you will find yourself depending on it as your business grows and you start to see more and better results.
It makes your marketing campaigns more significant through the power of better keywords that deliver real and lasting results.
Try Ubersuggest today and see for yourself just how handy it is for your brand!