Here is a list of top 7 eCommerce trends for 2017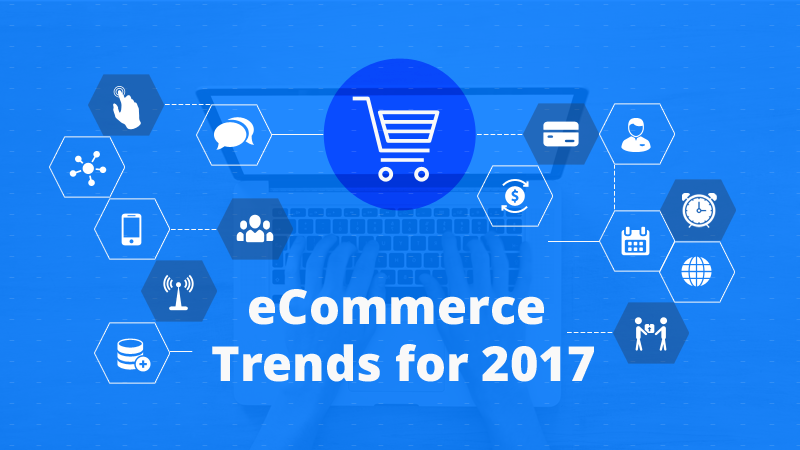 1. Chat Bots – Chat bots are revolutionizing the way that brands and customers interact.
Messaging apps like Facebook and Kik are making this technology are accessible and affordable for retailers and 2017 will surely be a year where we will start to see this technology applied to eCommerce sites.
2. Artificial Intelligence – Users will start their buying process by speaking to virtual assistants.
Siri, Alexa, Cortana adn Google's Assistant are here to stay and eCommerce will need to start optimizing for conversational commerce.
3. Mobile First – A mobile first approach in design, UX and marketing is imminent.
Specially because most of eCommerce traffic now comes from mobile devices and since Google launched its mobile-first web index.
4. Same Day Delivery – Fast order delivery is a decisive factor in an eCommerce sale and competition keeps growing since Amazon did their first drone delivery in the UK in just 13 minutes.
Expect same day deliveries become the norm in 2017 in eCommerce sites worldwide.
5. Paying with Mobile and wearable devices – Will be increasingly more common now, particularly since Apple pay is rolled out to more countries and more merchants start to accept it.
It's estimated that by 2017, $60 billion worth of sales will be made with mobile payments.
6. Big Data – Machine learning and predictive analysis tools will continue to improve.
Business operations will more than never be based on big data and analytics insights.
7. Customized user experience online and in-store – Big data, analytics and segmentation will continue to drive an ever more customized experience for users.
Not only online, but also in-store and even in real time – with personalized deals, discounts and product information.
These massive trends will change eCommerce marketing in 2017
eCommerce Growth Sifts to Asia.
Mobile users continue to increase.
e-commerce competition heats up.
Subscription-based business models are the future.
The Growth of Artificial Intelligence for Smart Prediction.
Chat bots
Shoppable Personalized Video.
Also read – Google Tez App: Digital Payment Application UPI-based