What is Google Adwords?
The Google Adwords is a vital tool of Google that helps online businesses to advertise their products or services by creating Google ads for them. In Adwords, you can set the budget of your business ad campaign and run it for a specific period of time. In this campaign you have to pay according to the number of clicks made on the business advertisement.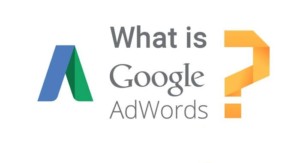 There are many ad campaigns can be created for products or services of an online business by using Google Adwords. Here, ad campaign can be created for specific keywords matching to your business. Whenever anyone searches for those specific keywords online, your ad will appear first in the Google search. These results can be obtained by search engine professionals easily. They promote the ad campaign and keywords of business smartly over the web and take ad at the top of Google search.
The aim to develop Adwords campaign for the business is only to generate more leads for business as well as advertise its products or services over the web. The success of ad campaign of business depends upon the promotion of its keywords on Google search. Thus, Adwords is a vital way to generate leads for the business online.
Types of Adwrods Campaigns For Online Businesses
You can create different types of Adwords campaigns for your online business. It will allow your business ad to display online in different formats that will help you attract online customers on business website easily.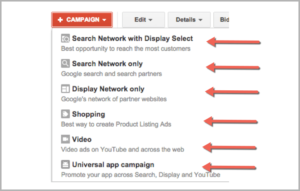 Adwords campaign types are:
Search Network with Display Select   
This type of campaign will help you promote your business ad online at different websites and take it into the reach of online customers. Moreover, it allows you to check how your ad displays over the web or make it more influential to attract visitors towards it.

In this type of campaign, your ad appears near Google search as well other sites. It helps your ad to be clicked easily whenever its related keywords will be searched by the online visitors. Your ad containing same keywords will appear first on the Google search.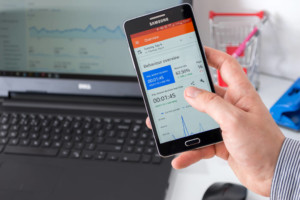 It is a perfect ad campaign that helps to display your ads on different websites and apps, whenever related keywords will be searched by online visitors. 
This ad campaign is designed to promote business online and increase traffic as well as generate leads for it. This campaign will benefit you more leads, traffic for websites, better display of ad, and good conversion rate.
Video campaign allows you display video ads for your product or service. Probably, you can run ad campaign on YouTube that will help you display it across the Google Display Network.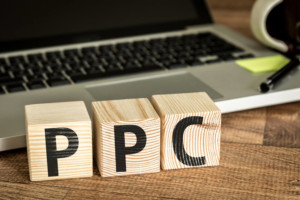 Universal app campaigns help in simplifying the whole business and make it suitable to promote on Android or iOS apps. Thus, supports to the Google's finest properties like Play, Search, YouTube search, and so on.
We, at Abhiseo aim to help beginners and experienced webmasters to explore tips and tricks to improve website's performance over social media channels by following relevant blogging sites, digital marketing strategies as well as SEO techniques. Here you can learn best online platforms Digital Marketing in Noida.